Club Meetings
The Club meets monthly at 7:00 P.M. on the third Tuesday of each month for dinner at the Italian Café, 7161 Lee Highway in Falls Church. Our meetings generally include a speaker or other presentation, and plenty of fellowship among the members and guests. Members gather before the meeting to order dinner off the menu. Official business is usually conducted at a separate monthly board meeting held on the first Monday of the month at the Holy Trinity Lutheran Church, 3022 Woodlawn Avenue, Falls Church.
Visitations
We encourage Lions from other clubs to visit our Club. If you want to know more about what is on the program or if there are any special circumstances for a given meeting, please contact either:
| | | |
| --- | --- | --- |
| Secretary (2022-23) | Katie Clinton | |
| President (2022-23) | Mike McLaughlin | |
Officers and Directors
Each year our club elects officers and directors in accordance with the Club Bylaws. Any may be reached by sending an e-mail to info@fc-alions.org.
The Club is continually searching for civic-minded individuals of good moral character and integrity who want to make a difference and contribute to the community. All such individuals are encouraged to apply for membership in the Falls Church - Annandale Lions Club.
You might become a member, if you: (1) want to make a difference in the lives of the handicapped, the disabled, or the less fortunate, (2) enjoy helping others by giving your time and energy, and (3) are interested in making friends in Northern Virginia and perhaps around the world.
Club administrative dues are $25 per quarter. All of the administrative costs of the club are met with internally-generated funds (e.g., dues, administrative fundraisers, reserve funds). We are required under our bylaws and by Lions International to devote all of the proceeds of our community fundraising to community service.
Membership offers the opportunity for service to others and can provide intangible benefits. And, Lion members sharpen their public speaking, management, finance, and leadership skills while making the community a better place for all. For more information, contact us at the address below, or click here.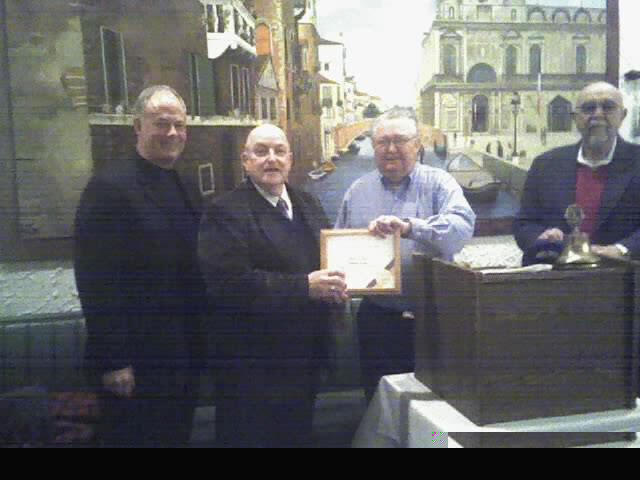 Past District Governor Clark Erickson (second from right) presents Lion Don Pitt with certificate of membership as sponsor Lion Kevin Moon (left) and King Lion Harry Hall (right) assist in the induction ceremony. The setting was not actually in Italy, but was at the Italian Cafe in Falls Church.